Extract audio tracks from DVD or Blu-ray disc

(activation required)
1. Load Blu-ray / HD-DVD / DVD in disc ripper
First you must load the disc in DVDx 4.1, either from main menu which loads disc in the player (full-featured player to preview movies), either from disc ripper menu.
Load Blu-ray / HD-DVD / DVD in disc ripper

Physical discs in drives are automatically loaded at start or when they are inserted.

You can load an ISO file (DVD/HD-DVD/Blu-ray ISO).

You can load a disc from its folder path (usually VIDEO_TS for DVD or BDMV for Blu-ray).

Load disc in player (ripper auto-loading)

You can load disc for playback and ripping.

However encrypted HD disc (Blu-rays and some HD-DVDs) won't play, so loading fails and you MUST load them directly in the ripper.




2. Open disc ripper
Open the disc ripper window from the ripper widget menu (from where you can eject loaded discs too).

And OSD message alert you when start loading a disc and when the disc is loaded (screenshot beside shows OSD 'loaded' message).
| | |
| --- | --- |
| | Alternatively you can open the disc which is loaded for playback (which is also available from ripper widget menu). |
3. Load audio transcoding profile
Click Load profile button and select audio profile:

ac3.ini : AC3 (Audio Dolby Digital)
aiff.ini: AIFF (Apple Audio Interchange Format)
caf.ini : CAF (Apple Core Audio Format)
dts.ini : DTS (Audio Digital Surround)
m4a.ini : MP4 Audio
mp3.ini : MP3 Audio
ogg.ini : Ogg Vorbis (Google WebM Audio)
wav.ini : WAV (Microsoft Audio)

wma.ini : WMA (Windows Media Audio)

Choose to apply this profile for current title or for all titles.
Select the audio track you want to extract.

Click the small gear wheel button to change output format.

Important:

it is recommended to open the profile window and reload the profile .ini to ensure all settings are resetted.
4. Choose profile level
All good profiles settings are chosen for you but you can change profile level to get a smaller file or a better quality one.
Advanced user can select 'User settings' level and tweak video and audio formats.
Audio settings

For multi-channel audio streams (Dolby/DTS 5.1 and 7.1), Dolby Prologic II stereo down-mixing is automatically selected for stereo output. This keep best audio experience in stereo output.



5. Start extracting audio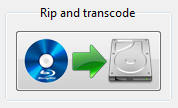 You're now ready to start audio extraction, jut click the start Rip and transcode button and follow on extracting progression.