Reading, saving and sending job report


1. Where's job report?
Job reports are available from the job managers:

Job managers are be opened from main menu.

Appropriate job manager is opened automatically when starting new job.
Job manager magic button

If job fails, magic button becomes report button.

Job manager menu

When job is finished, report is available from job manager menu:



2. Reading job report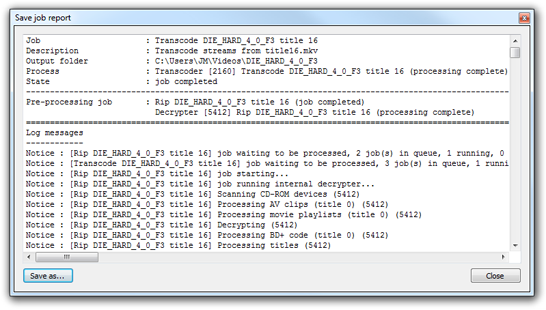 There are seven sections in the report which we explain hereafter.
Job informations

Job state is either:

completed
failed
aborted
canceled
Preceding/succeeding jobs

Check related job state.
Eventually, save related reports.
Input

Input is very detailed in job report (format and every stream, every disc title).
Job transcoding profile

Transcoding jobs provide complete transcoding profile in report.
Profile settings

Transcoding jobs provide profile settings in report:

check which stream are selected
check encoding parameters set for every selected stream
Log messages

Job report provides related messages extracted from processing log:

you may find there the most interesting job process information
but could be touchy
3. Sending job report
First, try to find obvious issues in the job report:

expected stream not selected (in profile settings)
empty streams skipped by ripper (in log messages)
failed process (in processing log)
other issues in related jobs (preceding/succeeding jobs)

Create new job and change/verify suspected settings in transcoder profile.

Eventually, save and send the job report attached in a mail to starbuck at labdv dot com.

Benefits:

we can learn from your reports and improve DVDx 4.1
we can find specific issue and reply you a solution
we can find bugs and fix them
4. Don't panic
Job failed or unexpected result, and job report seems far too complicated, don't panic:
send us the report attached to your concerned described in your own words (in english or french language)
we'll reply you with an easy solution (hopefully)