Rip DVD or Blu-ray title with dump method

(activation required)
1. Should dump method be used?
Dump method should be avoided, so first, you should try to rip DVD or Blu-ray disc following normal method:
If normal method fails (title not detected, unable to start ripping, ...), then you'd use the dump method.
Dump method can rip encrypted DVD disc and encrypted Blu-ray disc, but some Blu-rays may have to be decrypted before, which is done creating a decrypted ISO first:
Backup DVD or Blu-ray disc to ISO image



2. Load disc in DVDx 4.1 player
Load disc for playback.

Disc detection and analysis could take a while, so be patient.

You can load encrypted DVD disc or encrypted Blu-ray disc.
3.Select title (eventually camera angle)
4. Start copy with dump method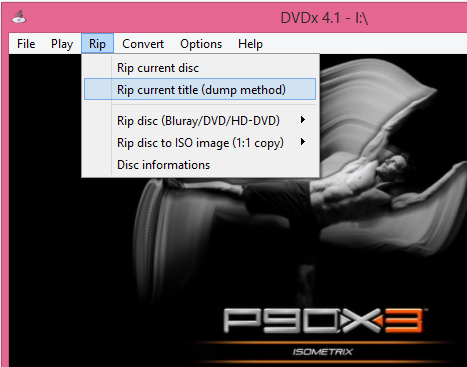 You should stop playback before start dump title (or it may take hours).
Dump method process try to provide accurate monitoring informations but they aren't always reliable, anyway you might see that progress is alive and further, completed :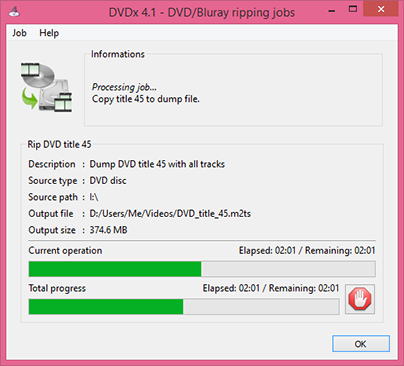 Output size progress is the more accurate progress data.
Some discs are very difficult to dump and processing may take a while (could take 20 minutes for DVD and 50 minutes for Blu-ray), so be patient.
When dump is finished, you may click the magic button to load the dump file back into DVDx 4.1 player and video converter :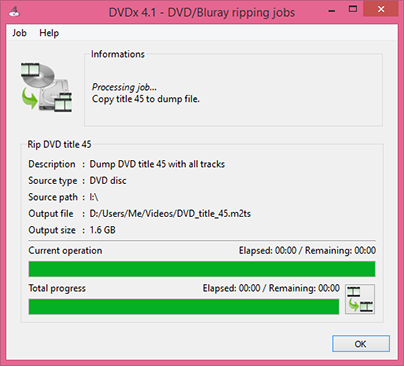 5. Transcode title
Dump method runs a kind of brut-force copy process which grabs every title track, but metadata is lost (subtitles and audio languages are missing) :
Thanks to DVDx 4.1 integrated player you can identify audio and subtitles tracks you want , and then you're ready to transcode dump file :

Recode DVD or Blu-ray rip (MKV files) tutorial will help...